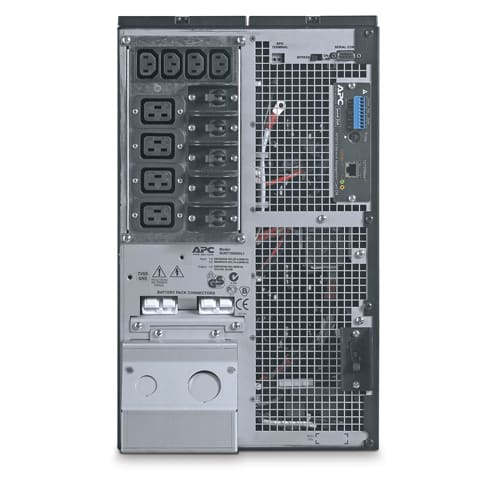 Technical Specifications
I want to know what the phases of these outputs are, relative to the 3 phases of the input. I've looked through the web interface to the management processor, the user manual, technical specifications document, the physical system's markings, the APC website, knowledge base, and this forum - and can't find anything to tell me this information.
Can any of the knowledgeable gurus here tell me, please? Message was edited by: concentrate.
APC Smart-UPS RT 8000VA 230V
In bypass mode it will pull from Phase 1, which is why we spec a max draw on L1 of 50 amps when in bypass and 15amps when online. This is noted on the input wiring chart in the users manual Page 2.
SURT10000 xli UPS prooftest
In your opinion, if a phase goes down will the UPS continue providing power from the grid or it will switch to battery backup. Input Power draw should be pretty close to the same on all three phases This is a True Online double conversion UPS, meaning that the output is derived entirely separate and with separate phasing, from the input.
APC Smart-UPS RT 10000VA 230V
Pretty sure that loss of a phase would be seen as an "outage event" and the UPS would switch to battery. Schneider forum admins would need to confirm Choose a location. StruxureWare for Data Centers. Getting Started.
Universal Transfer Switch. Mobile Power Packs. Design Portal.
Subscribe to RSS. Not a member?
SURT10000XLI
Join now. Does this mean that all of the outputs are in phase with the phase 1 input? Thanks Battman for your input.
I would like to know this also. Will it balance the power draw on all 3 phases?
Yes, if one phase is lost, UPS will go to battery. Page 1 of 1 9 items.
Choose a location discussion :. Copy Close. Choose your language:. This website may contain content submitted by users and is for informational purposes only.
APC by Schneider Electric shall have no responsibility for the accuracy, correctness or objectionable nature of any user-submitted content, and disclaims any and all liability arising from or related to your use of the website.